Best YouTube video Promotion
We are a team of experts who provides 100% genuine views, subscribers, watch time & revenue to your YouTube channel. We use Google advertising strategies to drive real and potential audiences to your YouTube Channel.
Boost Your Youtube Channel now !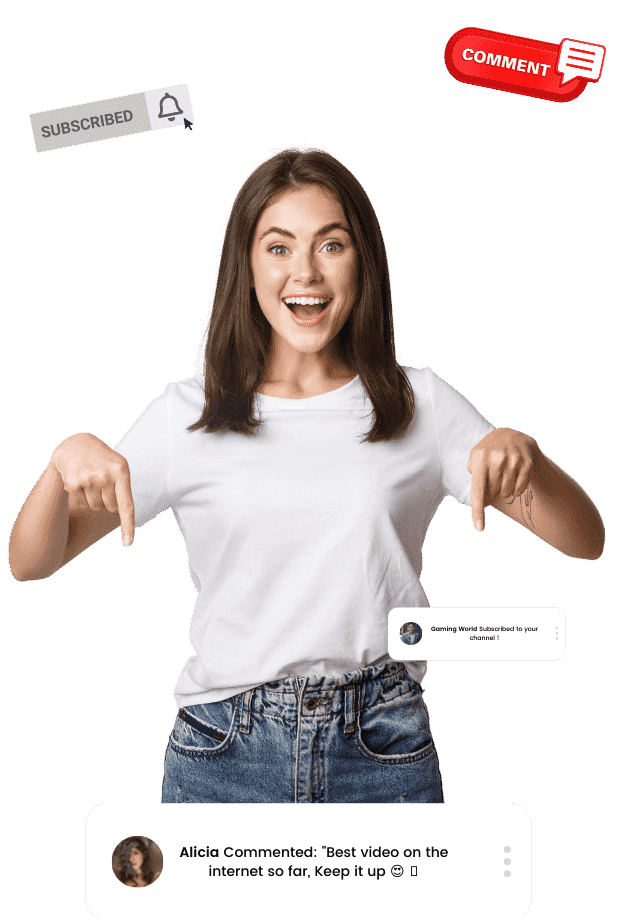 At Vidflyy, we offer a range of benefits as an online advertising agency, including:
✅ Working Through YouTube Ads
✅ Provide Affordable Plans
✅ 100% Money Back Gurantee!
✅ Finds Only Real & Engaging Audience
✅ Multiple Plans Available For Views, Subscribers, Revenue & Watch time.
✅ We never use bots, click farms, or pay people to watch your videos
RESULTS
stop wasting your valuable time
Get Real

RESULTS
We Advertise Your YouTube Video Through YouTube Advertising & Help You Achieve Real & Engaging Subscribers For Your Channel
Trial
YouTube Advertising
Trust
YouTube Advertising​
Expert
YouTube Advertising​
We Advertise Your YouTube Video in Form Of True View Discovery Ad until The Channel Achieves Commited Target of Subscrbers.
Trial
YouTube Advertising
Beginner
YouTube Advertising​
₹
6000
180-250 SUBSCRIBERS
Expert
YouTube Advertising​
₹
12000
500 - 600 SUBSCRIBERS
We Achieve YouTube Watch Hour Criteria With The Help Of Ads Platform, We Reward People To Watch Your Video On Different Games & Websites 
Trial
YouTube Advertising
Beginner
YouTube Advertising​
Ultimate
YouTube Advertising​
*ONLY FOR MONETIZED CHANNELS*
We Connect Your YouTube Video To High Ranking Websites & Blogs, Thats How We Generate Revenue & Potential Audience For Your Channel.
₹
2000
$10 to $20 Revenue
₹
4000
$20 to $40 Revenue
₹
7500
$40 to $80 Revenue
Video Promotion is the simplest way to put your video in front of the right audience to ensure that your video is seen. Get big results at even the cheapest cost.
Let Vidflyy manage your YouTube Video Promotion Campaigns.
We receive emails from creators daily, asking the same question: How to promote my YouTube channel? There are many ways to create buzz for your channel, but at Vidflyy, we promote YouTube videos using the latest YouTube Promotion strategies in advertising. Vidflyy is the ideal solution for anyone that is asking themselves how to get ads on YouTube. Instead of doing it yourself, you can work with an entire team of specialists that will do the work for you.
Unlike other providers, we only promote YouTube videos directly on YouTube. All views are generated using Google Ads, and our experienced management team optimizes your ad campaigns. So, if you have been wondering how to get more views on YouTube, let us help you promote your YouTube channel and increase YouTube views.
VidFlyy have been of great benefit to our organisation. Their knowledge and experience of work has already produced great results. We look forward to working with the guys for years to come.
Mark is very approachable and took time to explain the ways we can improve our content. We are very happy with the work you've done for us to date and have seen a significant improvement in our videos.
We have been working with VidFlyy since the beginning of 2017. We engaged them to manage our AdWords video campaigns and are very impressed with the results so far.
YouTube Video Campaign
Reports
How will your videos show on YouTube?